Dedicated Frisco, TX Dentist
Get to Know
Dr. Naira T. Kraipak
If you are a patient that fears the DENTIST please come and see Dr. Kraipak (Dr. K).
Dr. K has been working in the dental field for more than 15 years now. She graduated with TKO honors from the University of Pacific Arthur A Dugoni School of Dentistry, San Francisco.
Dr. K is not only passionate about dentistry but also in helping ease patient anxieties. For her providing care at PLUSH Dentistry means establishing relationships with families for life. She does not just want to be their "go to dentist" but also wants to provide a safe space for people with dental anxieties to share their stories and help them overcome their fears.
It's rewarding to see patients who would barely come in for dental emergencies due to their fears now change into people with established preventive care at our office. It is heart warming to see them get back their oral health, function and confidence just because you listened to them and made them feel safe. It's why I became a dentist.
Why Did You Become a Dentist?
While growing up, Dr. K was always surrounded by healthcare workers in her family. Her dad is a physician, and she also loved visiting her childhood dentist. He would explain all of the procedures and tools very clearly to her during treatments. She was passionate about art as well, and over time, it became clear that the dental field was the best combination of art and science available. It additionally had the important element of interacting directly with people regularly – for her, that sounded much better than sitting behind a computer all day! Years later, she's still entirely confident that it was the best choice for her.
Where Did You
Study Dentistry?
Dr. K pursued her dental doctorate at the University of the Pacific Arthur A. Dugoni School of Dentistry. She graduated with TKO (Tau Kappa Omega Honor Society) honors. Over the years, she's also pursued advanced education in a number of specialties, including Invisalign® Clear Braces and Fastbraces®.
Outside of the Dental Office,
What Do You Like to Do?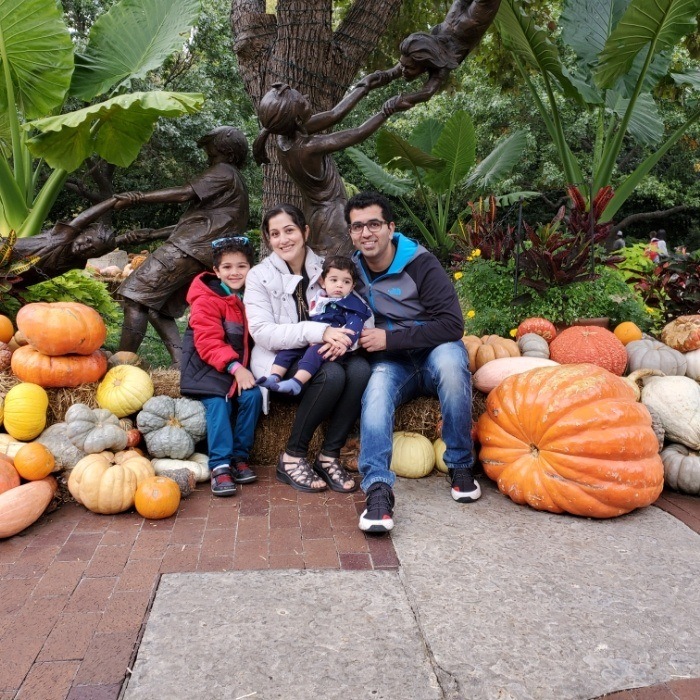 Dr. K and her husband Dr. Ali have two young boys at home – they're always full of energy and keep them very occupied! As for personal hobbies, she really enjoys traveling and exploring different cultures whenever possible. She was part of the cultural committee during school and feels that diversity makes the word beautiful. She also enjoys dancing, listening to music, and going on long walks. Her multi-tasking talents make her a top choice for friends and families who want to organize events too! Over the past few years, she's organized several cultural festivals.