Dentures – Frisco, TX
Give the World a Full Smile Again
If you are considering dentures, we invite you to schedule a consultation so we can review your case and discuss your options. As removable prosthetics, dentures in Frisco, TX can be a good option for patients who are missing most or all of their natural teeth.
Why Choose Plush Dentistry for Dentures?
Carefully Personalized Prosthetics for Your Unique Smile
Two Dentists with Years of Experience
Single-Patient Treatment Suites for Your Privacy
Who's a Good Candidate for Dentures?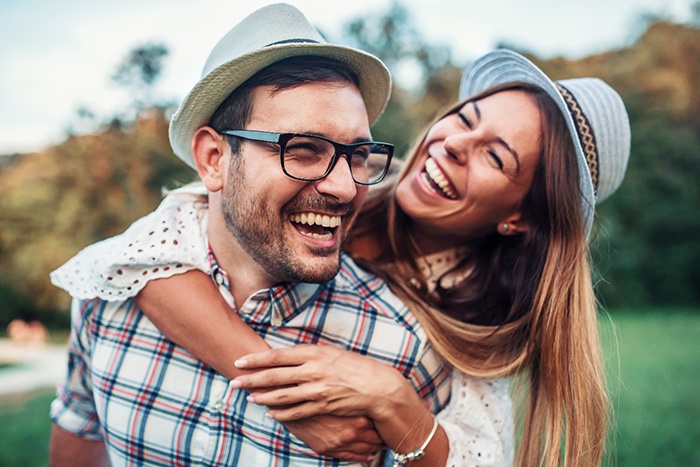 If you're missing one, some, or all of your teeth, then you might consider getting dentures as one of the most popular choices. Fortunately, you won't need much to be a good candidate for these prosthetics. Since this treatment is versatile and completely personalized for each patient, nearly everyone struggling with tooth loss can benefit from this option. To be certain that you're eligible, however, you'll need to schedule an appointment with our team. If you wish to learn more about what makes a good dentures candidate, read on or reach out to our office.
Effects of Missing Teeth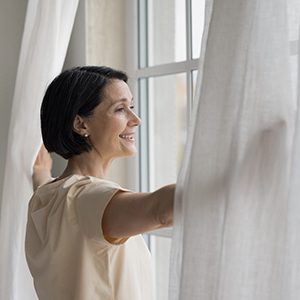 Tooth loss can occur for many different reasons, such as accidental injury, dental decay, or even gum disease. Many times, simply having poor oral hygiene or forgetting to clean their smile can result in someone losing their pearly whites. Not only can this lead to complications in your bite, such as difficulty eating or speaking clearly, but your jawbone can begin to deteriorate. Without enough strong and healthy bone tissue, you can end up experiencing further tooth loss! For these reasons, you'll want to seek treatment to effectively replace your missing teeth and maintain good oral health.
What Qualifies You for Dentures?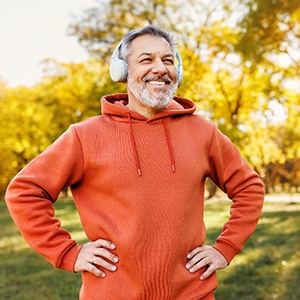 The majority of people who suffer from mild to severe tooth loss are eligible to get dentures. That said, we'll still need to consider a few other factors, such as decay and sensitivity. Our team will need to confirm that you have healthy gums and jawbone tissue before moving forward with your treatment plan. You'll also need to be committed to practicing strict oral hygiene and visiting your dentist every six months for checkups and cleanings.
When getting your dentures, we'll determine the kind you'll get based on the number of teeth needing to be replaced. For one or some missing teeth, we can offer partial dentures. If your upper and/or lower arches are empty, then we can provide you with full dentures.
Alternative Tooth-Replacement Options
If you aren't a good candidate for dentures, it doesn't mean you won't have other tooth-replacement options to consider. Our team at PLUSH Dentistry can also offer alternative restoration options like:
Dental bridges – This treatment can help replace one or several missing teeth in a row. These restorations typically consist of two crowns that are fitted to the healthy teeth on either side of the gap, which anchor the pontics or artificial teeth to bridge your smile. This procedure involves shaving down a small amount of your enamel.
Dental implants – By embedding titanium posts into your jawbone, you can directly anchor your restorations for superior stability and functionality. While this treatment involves an extensive recovery period for osseointegration, your results can last several decades to a lifetime with minimal dental care.
Learn More About Dental Bridges
Partial Dentures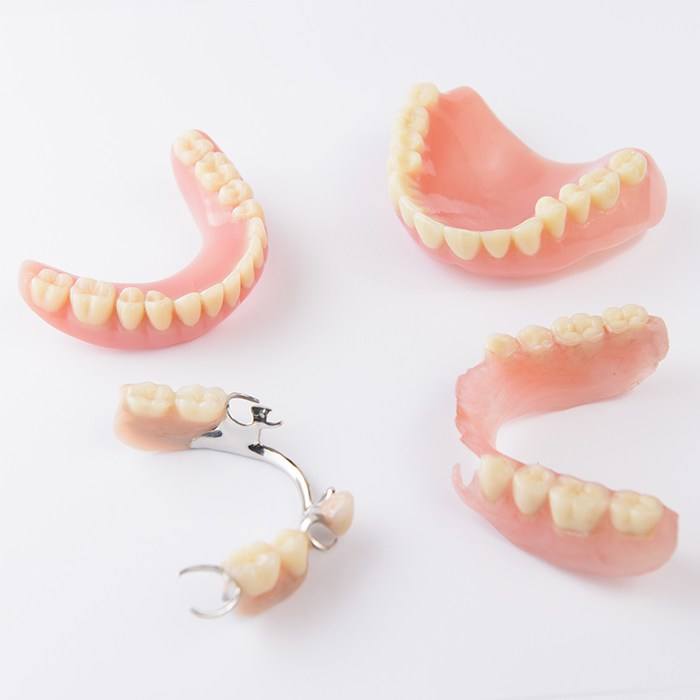 Partial dentures, or "partials," may be a good option if you have several teeth missing, or if a crown is not an option. Partials consist of prosthetic teeth that are attached to a metal frame. The frame connects to the natural teeth to complete the arch. Partials can be made to fit an upper or lower arch, and they provide an appealing aesthetic. Each prosthetic tooth is individually crafted to match the color, shape, and size that fits your mouth the best.
Full Dentures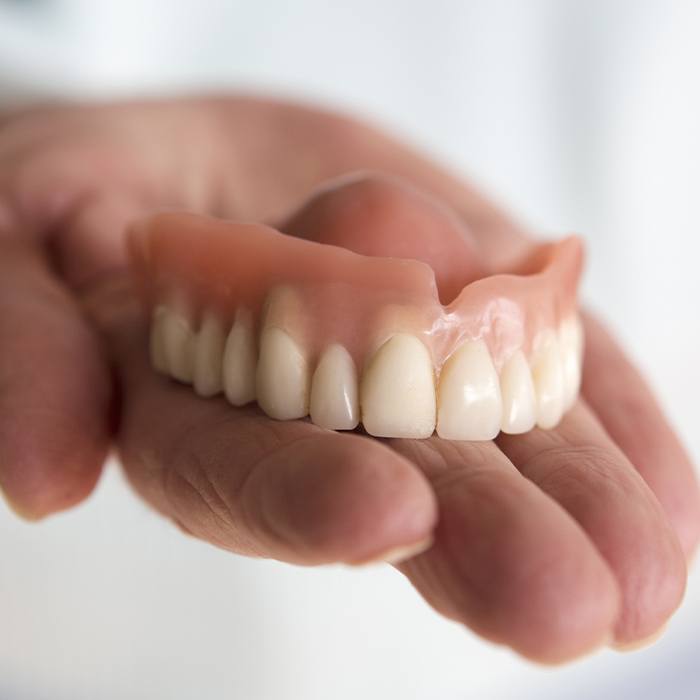 If you are considering full dentures—which replace all teeth on either or both arches—rest assured that our expert team can create prosthetics that will look like your natural teeth. If any existing teeth need to be removed, we will start with these extractions, and then take impressions. From those impressions, we will create your final dentures. In the interim, we can make a temporary set that you can wear immediately. We will monitor your healing process if you had teeth extracted, and once your final set is ready, we will work with you to make sure you are getting a good fit.
Dental Implant-Supported Dentures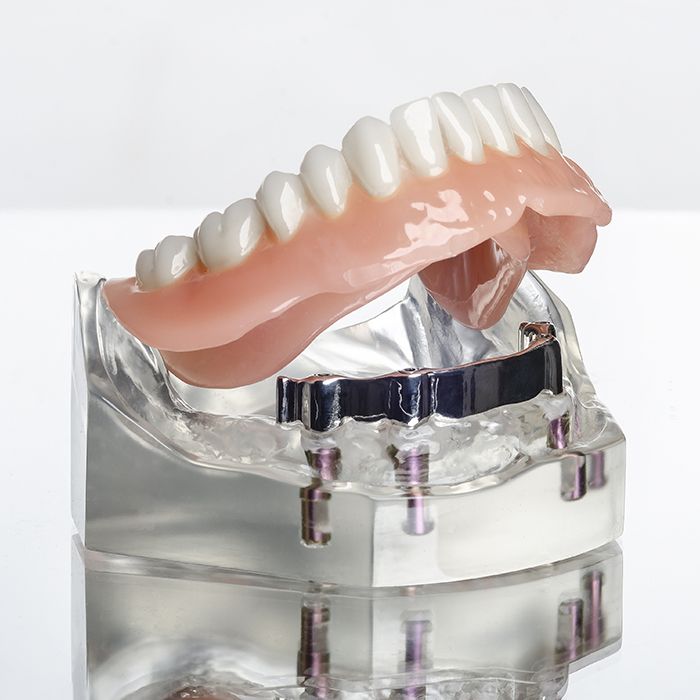 With an implant-supported denture, we combine a traditional denture with the strength of dental implants to create a more secure fit and more natural feel. The process for an implant-supported denture is similar to that of traditional dentures. We will begin with any needed extractions, and we can provide a temporary set of dentures for use until the final version is ready.
We will work closely with a prosthodontist who will place your dental implants, which are made of titanium and secured into your jawbone. Once the implants are placed, you will need time to heal, so we can ensure the implant posts have properly fused to the bone. This may take anywhere from three to six months. When you have properly healed, we can attach the denture, which snaps onto the implants. Your denture can be removed and reattached easily, with the security of the implants to keep it in place.
Benefits of Dental Implant-Supported Dentures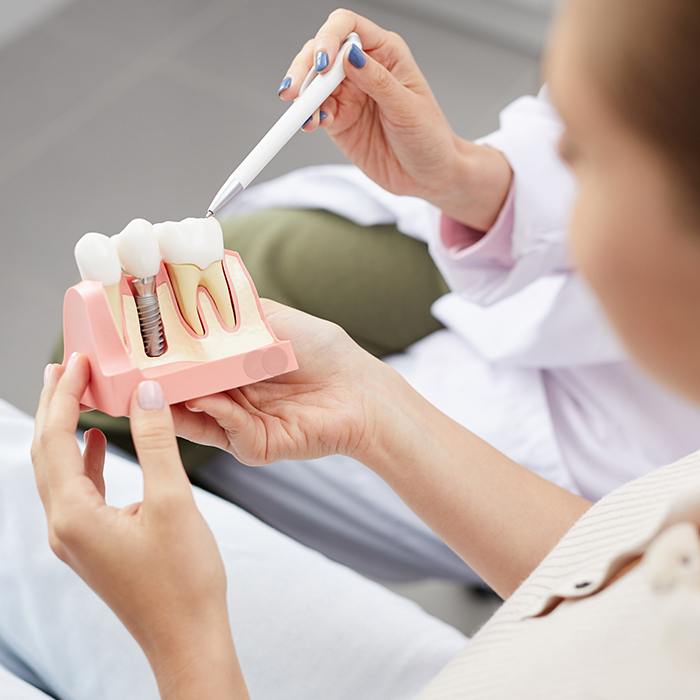 The benefits of an implant-supported denture include:
A more secure fit
Greater confidence that a denture will stay in place while eating and talking
More stability
Better long-term bone density
Bone Preservation with Dentures and Dental Implants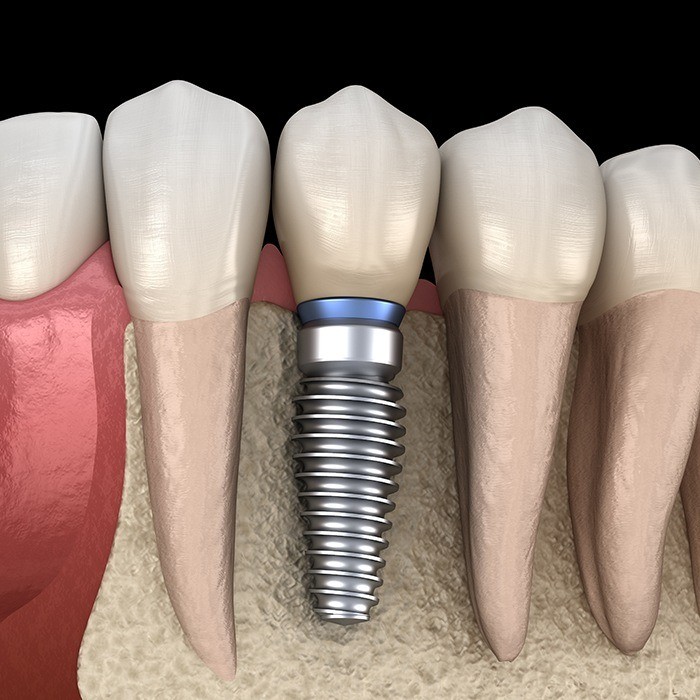 One important distinction between traditional dentures and implant-supported dentures is the long-term impact on your jawbone. With traditional dentures, over time, patients will experience bone loss. This is because once the natural teeth are gone, the bone weakens with lack of use. However, with an implant-supported denture, the implants act more like natural teeth, which keeps your jawbone stronger over time.
Maintaining Your Partials and Dentures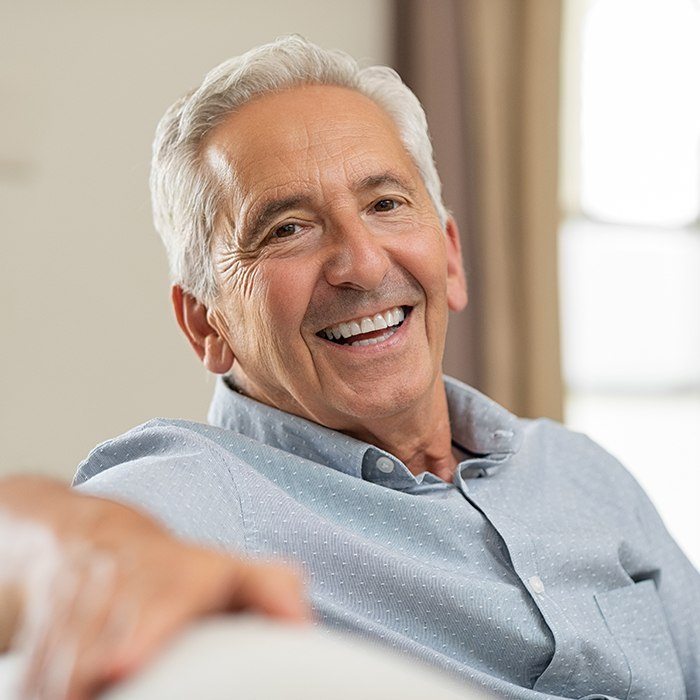 At Plush Dentistry, we want you to get the most out of your prosthetic. We will provide you with instructions for ongoing care, which includes:
Cleaning properly on a daily basis
Storing in fluid when not wearing
Continuing with regular dental exams
Communicating with our team if you develop any areas of soreness or irritation
Like any artificial device, dentures and partials do eventually wear out, and they need to be replaced. This is important to note, as sometimes patients incorrectly assume this is a permanent solution that requires no additional upkeep.
Ongoing dental care is still important, as we need to make sure no other issues are developing. We also want to ensure your prosthetic is still fitting comfortably. Additionally, changes in your gums will require that you have your denture relined from time to time. With proper care, you can expect to get many years of use from your denture.