Porcelain Veneers Process – Frisco, TX
The Path to a Perfect Smile
Porcelain veneers have the potential to dramatically change the size, shape, and color of your teeth. Whether you want a Hollywood smile that is worthy of the red carpet, or you want a gorgeous but subtle smile, porcelain veneers may be able to help you reach your goals. Before you commit to veneers, however, you may want to learn more about the smile makeover process that awaits you. On this page, you'll discover how our team could give you a completely new look in just three appointments.
First Appointment

Your first appointment is your cosmetic consultation. We'll take some X-rays and detailed photographs of your teeth, smile and facial features. Dr. Ali will examine your mouth to determine if porcelain veneers are an appropriate treatment for you. This appointment is also your opportunity to ask any questions you may have. At this visit, we will take some impressions that will serve as the basis for creating a wax mockup of your new smile. Our photographs and a list of your smile enhancement goals serve as critical feedback for our master ceramists who will design your teeth in wax. Our design process is based on facially guided design, where we design the smile to complement and enhance your facial features.
Second Appointment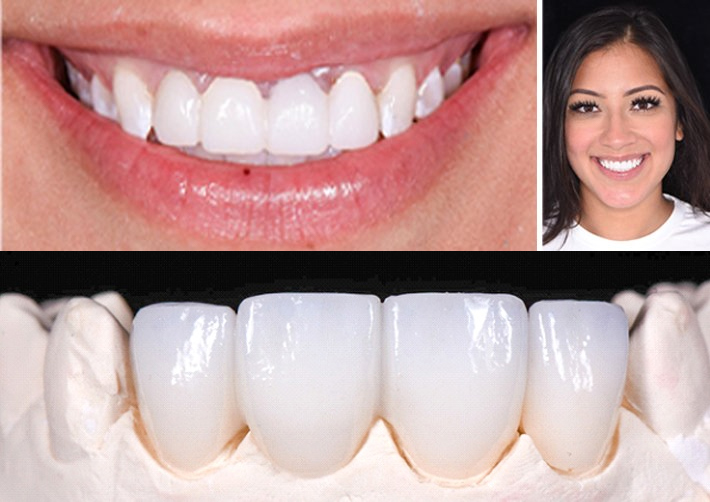 At this visit, Dr. Ali will try on the wax mockup on your teeth that has been designed, keeping your treatment goals in mind. This also gives you a smile preview to test drive your new look and gives us vital feedback regarding any changes that you may want to incorporate into the final design.
We will then minimally prepare your teeth 0.3 – 0.5mm through the mockup with the goal of preserving 95 percent of your natural tooth structure. This process involves removing or reshaping a bit of enamel from your teeth so your veneers will not look bulky or unnatural. Provisional (temporary) veneers will be placed on your teeth to protect them and give you an accurate idea of what your permanent new smile will look like. If you have any further thoughts about the design of your veneers, such as their color, shapes, and texture, we will incorporate that into your temporary veneers. Once the design is finalized, we will make an impression of your temporary veneers to serve as a guide to our master ceramists, who will copy the temporaries exactly into the final design.
Third Appointment

When your permanent veneers are ready, you'll return to our office for your third appointment. After removing the temporary Veneers, the permanent veneers will be attached to your teeth with temporary try-in paste. We'll take some photos and let you review your new look. Once you give the go-ahead, we will permanently bond the porcelain veneers to your teeth. You'll leave our office with a brand-new smile!
Fourth Appointment
You will return to our office 3 – 4 days after the third visit for us to make any final adjustments to your smile and take final photographs of it. You will also be fitted for a new night guard to protect your veneers for the next 10 – 15 years.
How Long Does the Process Take?
The treatment timeline varies from patient to patient. Often, it depends on how busy our practice is and which appointments slots are convenient for your schedule. From beginning to end, the entire process may take 3 – 4 weeks. However, if you are in a hurry because you have a special event coming up or other unique circumstances, let our team know. We'll do our best to expedite the process.
How Much Do Veneers Cost?
Our veneers cost $1350 per veneer, depending on the circumstances of the individual case and smile. Reach out to us about our veneer packages for 4, 6, 8, or 10 veneers, and we will be happy to help you achieve your custom smile!
Are you ready to schedule your smile makeover consultation? Contact the friendly team at PLUSH Dentistry today.