Dental Implants – Frisco, TX
Reliable Support for New Teeth
Are you looking to fill a gap in your smile? Do you want to get a dental bridge without needing to make changes to your remaining teeth? Are you tired of your dentures slipping at inconvenient times? At Plush Dentistry, we believe you should always be able to rely on your new teeth, which is why we often recommend dental implants to provide additional support. Call us today to schedule a consultation with Dr. Ali or Dr. Kraipak to learn more about dental implants in Frisco, TX.
Why Choose Plush Dentistry for Dental Implants?
We Work Alongside the Finest Oral Surgeons in the Area
Expertly Crafted Restorations
Advanced Treatment with the Latest Dental Technology
What is a Dental Implant?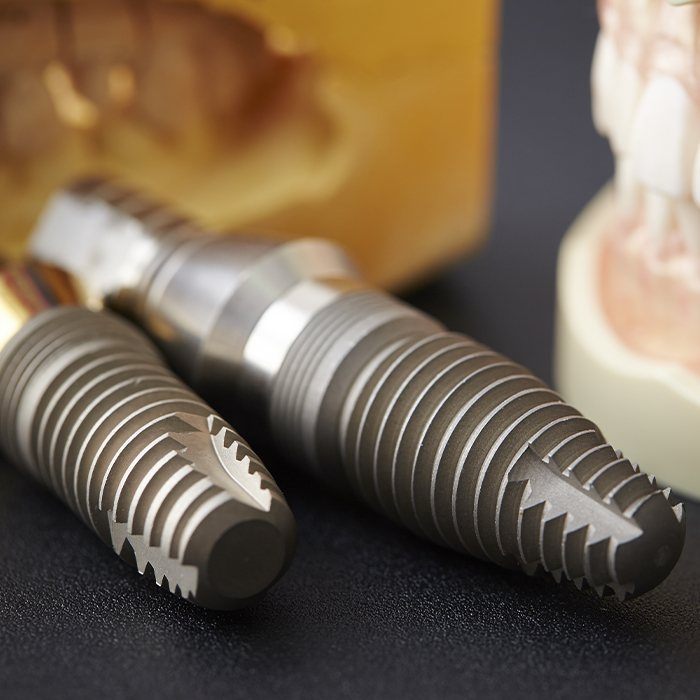 Implants are artificial tooth roots that are usually made out of titanium, a biocompatible metal that can integrate with the jaw and carries a low risk of an allergic reaction. After they've been surgically placed inside your mouth, you'll typically need to wait a few months for them to bond to the surrounding bone. Once the implants have become part of your jaw, we can attach an abutment, and then you'll finally be ready to receive your artificial teeth.
The 4-Step Dental Implant Process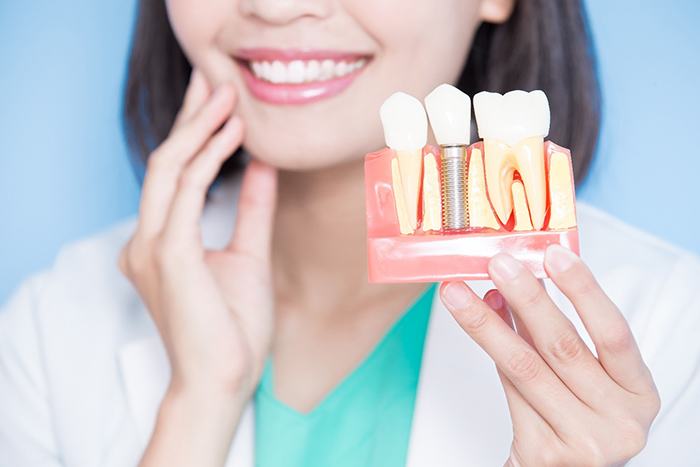 Dental implants involve a more extensive and complex procedure since they're the only tooth-replacement option to rebuild missing teeth from the roots up. On average, the entire process can take about several months to a year to complete, which is a relatively short time to ensure a successful and permanent solution for restoring a person's smile. Our team can provide you with the details of your treatment during your consultation, including how long you'll expect to wait to enjoy your full grin again. Until then, keep reading to learn how dental implants work in Frisco and the four main steps involved in the process.
Initial Dental Implant Consultation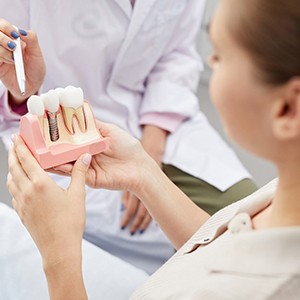 The first part of the treatment is to determine if dental implants are an ideal option for you. While most adults who are missing one or several teeth can be eligible for the procedure, you'll need to have good oral health before beginning. If you're struggling with issues like tooth decay, gum disease, and/or insufficient jawbone density, then you'll need to get them addressed to ensure a successful process. Our team will work to get your smile back to health before moving forward. Once you're ready for dental implants, we can walk you through the details of your plan, including the cost and timeframe, so you know what to expect.
Dental Implant Surgery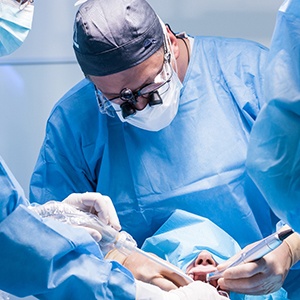 After your initial consultation, our team will refer you to one of our trusted local specialists to perform your dental implant procedure. We'll provide you with specific instructions on how to prepare for your appointment as well as aftercare guidelines to help you have a smoother and more comfortable recovery.
During your surgery, your implant specialist will first completely numb your mouth to ensure you're pain-free throughout your visit. You may even be sedated, meaning you'll be completely relaxed and may not even remember your procedure. Your oral surgeon will then make a small incision in the gums so they can access the jawbone. They'll carefully place each dental implant in the pre-planned areas before suturing the gum tissue around them. Afterward, they'll place a protective cap over the metal posts before sending you home to recover.
Dental Implant Osseointegration & Abutment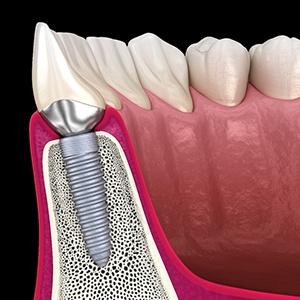 Over the next four to six months, your mouth will need to undergo the osseointegration process. This is when your dental implant will fuse with your jawbone and serve as your new permanent roots. Since the titanium posts are biocompatible, they can end up forming the solid, natural-feeling foundation your new pearly whites will need to be stable.
After you've healed sufficiently, you'll come back to our office so we can switch the protective cap out with your abutments. These connector pieces will be the link between your implants and your restoration(s). We'll then take impressions and use them to construct your personalized restoration as your gum tissue heals for some weeks.
Delivery of Dental Implant Restoration(s)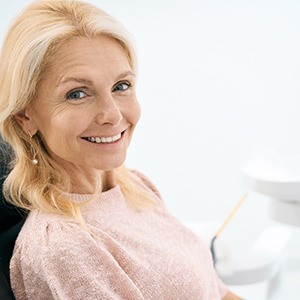 In no time, you'll return to our practice so that we can finally place your new crown, bridge, partial, or full denture atop your dental implants. Our team will look over your results, verify that your bite is comfortable, and ensure that you're satisfied with your new smile. We'll also happily answer any questions you might have before you walk out of our office with your brand-new and confident smile!
Benefits of Dental Implants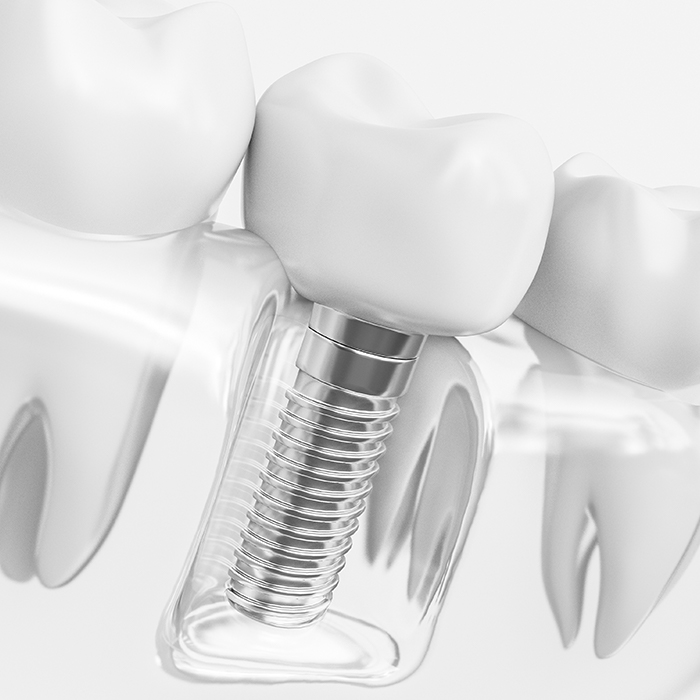 Dental implants provide numerous different benefits that you can't get from other tooth replacement options. You should look and feel like you've never lost any teeth at all! Here are just some of the benefits that you can experience when you replace your missing teeth with dental implants.
Day-to-Day Benefits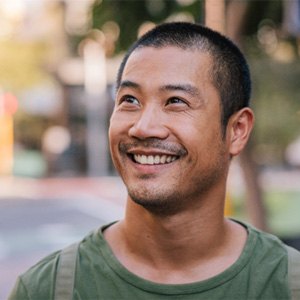 Dental implants feel just like natural teeth do when you have completed the healing process. At this point, you should be able to enjoy all of the same things that you did before you lost your teeth. Here are some of the benefits you can experience every day:
Restored Bite Force: Your bite force can be replenished by 90% or even more! This is much more than you can get back with dentures or a dental bridge.
Increased Confidence: The way you carry yourself is important, and tooth loss can lower your self-esteem. Dental implants can help you smile with confidence again!
Easy Maintenance: To care for dental implants, treat them like natural teeth. Brush, floss, rinse, and attend regular cleanings and checkups.
Health Benefits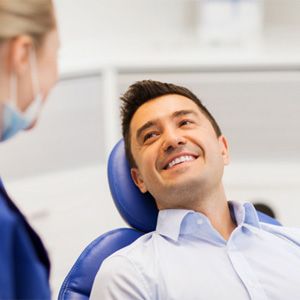 Your health will also be positively influenced when you get dental implants. Here are some of the benefits you will encounter:
Improved Dental Health: You are less likely to get cavities, gum disease, infections, and lose additional teeth.
Better General Health: Excellent dental health has an influence on your overall health. It can lower your risk of serious medical conditions, including diabetes and heart disease.
Prevents Bone Loss: Jawbone deterioration will occur after you lose teeth. Implants stimulate the jawbone and lower your risk of serious medical conditions, like diabetes and heart disease.
Long-Term Benefits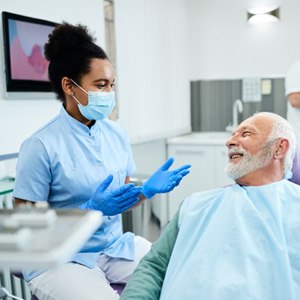 Dental implants are a great long-term investment. Here are some of the benefits that you can expect:
Success: Dental implants have a very high success rate, so your chances of dental implant failure are very low.
Save Money: There is no need to stock up on adhesives or soaking solutions. You don't need to worry about routine repairs and replacement either.
Long-Lasting: Implants can last upwards of three decades or even the rest of your life with proper maintenance.
Are Dental Implants Right for You?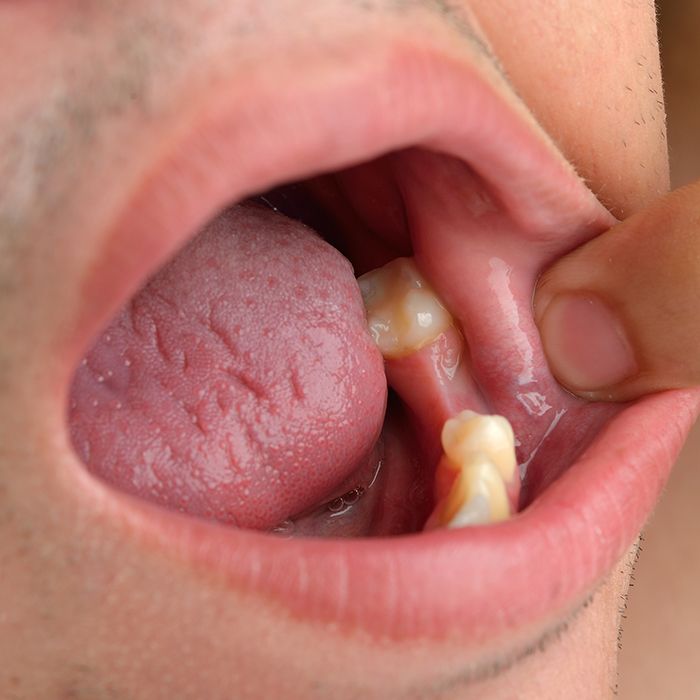 To be a candidate for implant placement, your gums need to be healthy. Gum disease can destroy bone tissue, so it can easily cause dental implants to fail unless it's treated first. Also, some patients might need a bone graft or a similar treatment to ensure that their jawbone is capable of supporting implant posts.
Bear in mind that it doesn't matter how many teeth you are missing; dental implants can be used to replace a single tooth up to a full arch.
Missing Single Tooth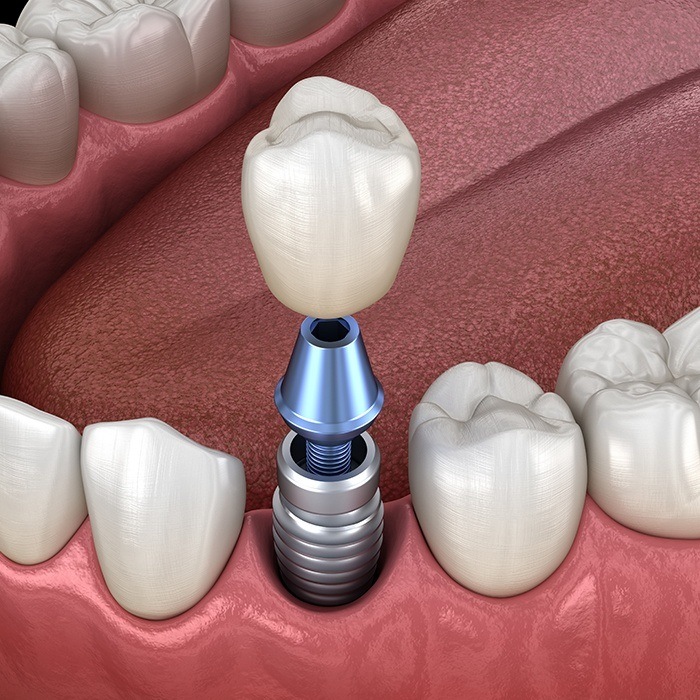 Instead of filing down existing teeth to place a dental bridge, a gap can be filled with a single dental implant post. We can provide you with an expertly made crown that will blend in with the rest of your natural teeth and prevent them from drifting out of place.
Missing Multiple Teeth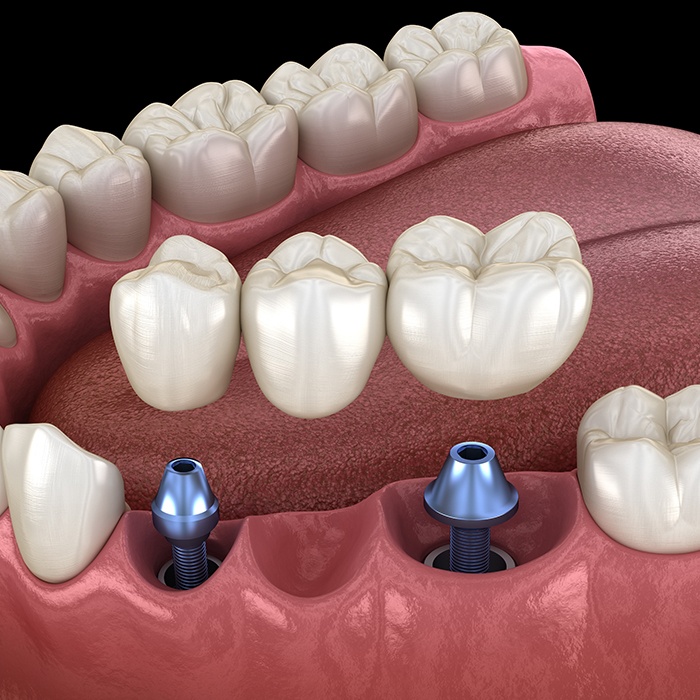 Bridges can be supported by just two dental implant posts; you might receive this type of restoration if you have lost at least three teeth that were all in a row. Both the crowns and the prosthetic teeth that make up the bridge will be made of beautiful, natural-looking materials.
Missing All Teeth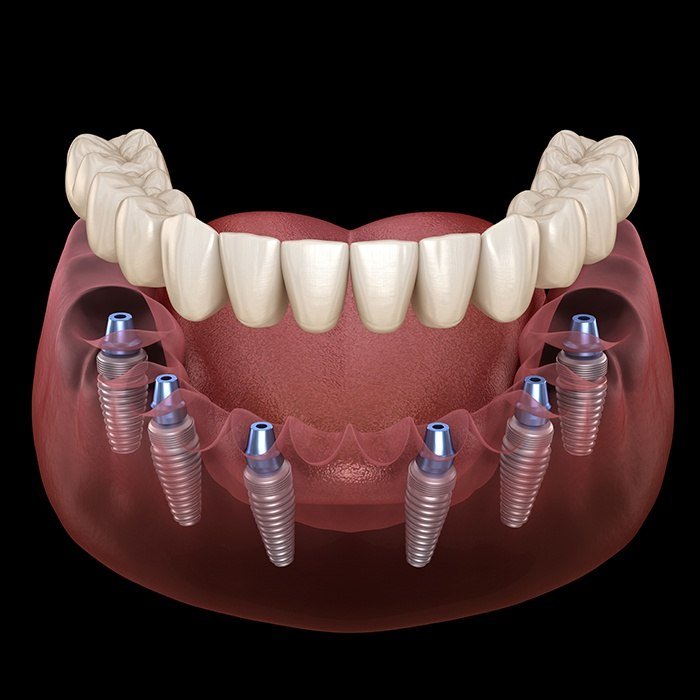 As reliable as traditional dentures normally are, they do eventually become ill-fitting once the jaw changes shape, and you risk damaging them whenever you remove them for routine cleanings. Anchoring your new teeth to implant posts will help you avoid these complications since they'll be permanently fixed in place and will help stimulate the jaw to keep it healthy.
Partnered with Frisco's Best Oral Surgeons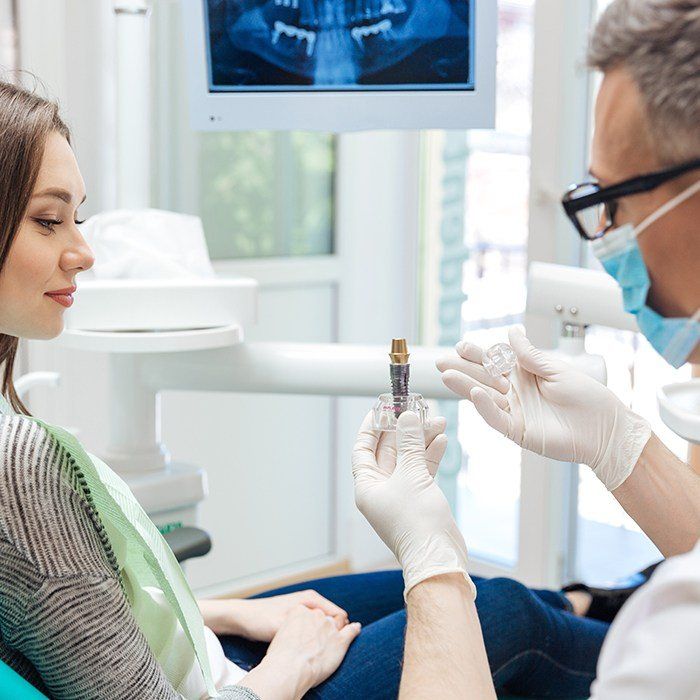 When placing dental implants, precision is key; if the procedure isn't performed correctly, a nerve might be damaged, or the implant might not bond firmly enough to the jawbone. At Plush Dentistry, we always want our patients to receive top-notch treatment, which is why we'll refer you to one of Frisco's most skilled and knowledgeable oral surgeons for implant placement surgery. We will provide you with a restoration once your mouth has healed.
Understanding the Cost of Dental Implants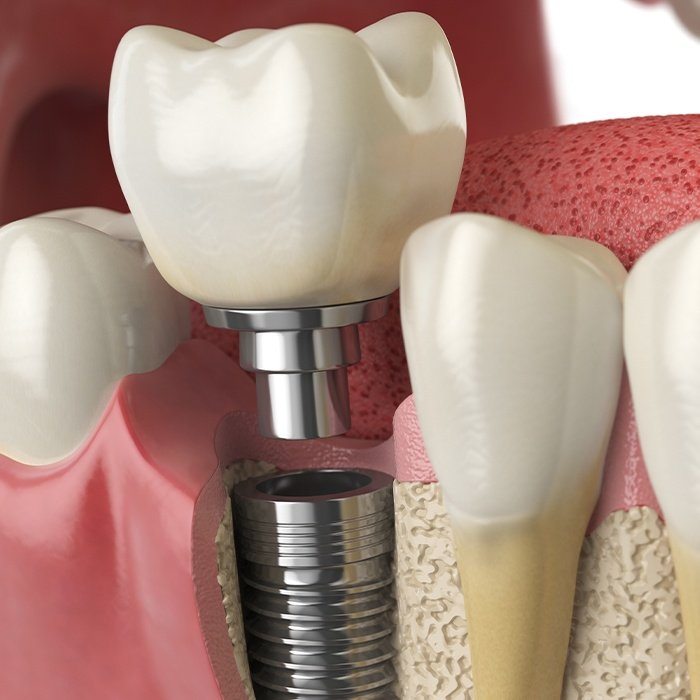 When discussing the dental implant procedure during your consultation, we'll make sure that you understand the various costs involved. When we give you an estimate, it will account for several different variables, such as the exact number of implant posts you'll receive and what adjacent procedures are involved. Each patient will have a different price to consider. In the short-term, implants are more costly than other treatments, but over time, this will be balanced out since you won't need to pay for a replacement nearly as often.