Teeth Whitening – Frisco, TX
Brighten Your Smile Quickly
Dental whitening is one of the most effective and easiest ways to enhance your smile. There are various ways to whiten your teeth—primarily, the two main methods are in-office teeth whitening treatments and home teeth whitening kits. We offer both options for teeth whitening in Frisco, TX at Plush Dentistry. In-office whitening will definitely get your teeth whiter in a shorter duration of time. We would still recommend a home whitening regimen afterward to maintain your results.
Plush Dentistry does not advocate one approach over the other, but in our experience, patients maintain a whiter, healthier smile by following a home whitening regimen. At Plush Dentistry, we offer two home whitening options to achieve this. Our simplest option includes custom whitening trays that are made for you during your first visit—included is an accompanying whitening gel. For optimum results, wear three to four times per week for 30-45 minutes.
Why Choose Plush Dentistry for Teeth Whitening?
Revolutionary Take-Home Whitening Kits
Expert Dentists to Oversee the Entire Procedure
Individual Suites for Privacy and Comfort
Zoom! In-Office Teeth Whitening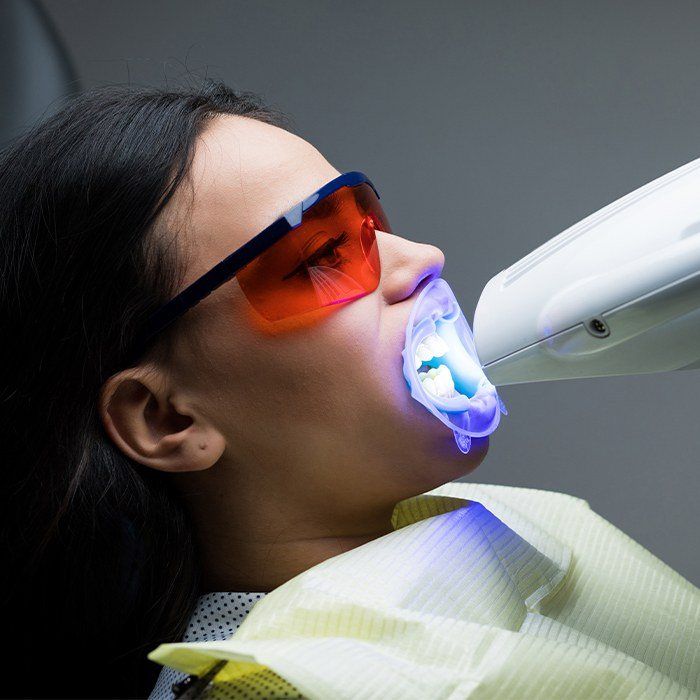 Zoom! Whitening has become the gold standard in achieving dazzling smiles. In just 45 minutes, you can have teeth that are up to eight shades whiter than where you started. We begin by applying a protective layer to your gums, and then the whitening gel to the surfaces of your teeth. An LED light activates the whitening power of the gel, and you get fast, beautiful results.
Apa White Duo at Home Teeth Whitening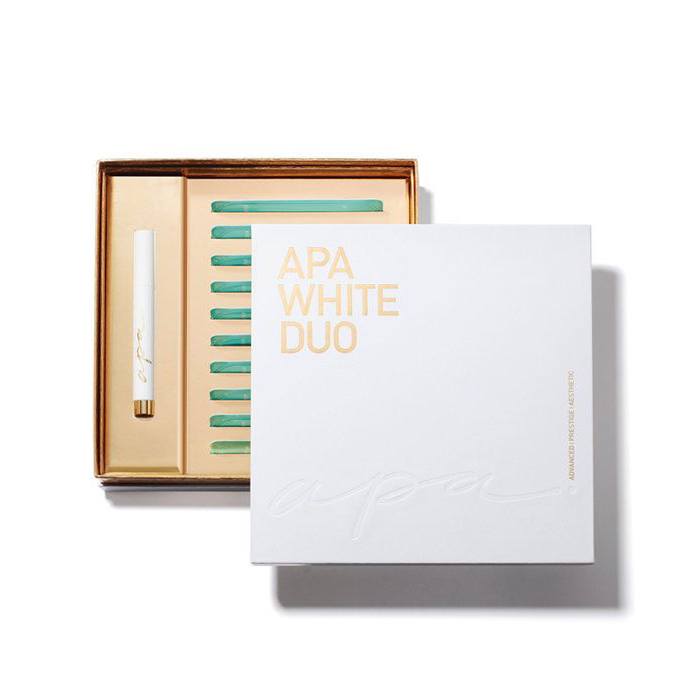 We are proud to carry and offer Apa White Duo. A luxurious and revolutionary home whitening kit designed by world-renowned cosmetic dentist Dr. Michael Apa, Apa White Duo is designed to work faster than traditional home whitening methods and delivers a brighter smile in just five days.
Two forms of whitening work together for maximum effect
Apply for 90 minutes a day for five days
Can be applied anytime and anywhere
Contains 10 white films and 1 white pen
White films: 20% Carbamide Peroxide
White pen: 18% Carbamide Peroxide
This unique two-step process mirrors the professional teeth whitening techniques performed in dental offices, but with no messy trays. The White Pen goes to work instantly, and the White Films mold seamlessly to your teeth to lock in the whitening agents and deliver a second round of bleaching action. Both are portable, easy to use, and designed to be compatible with life's activities.
Apa Beauty Radiance Care Kit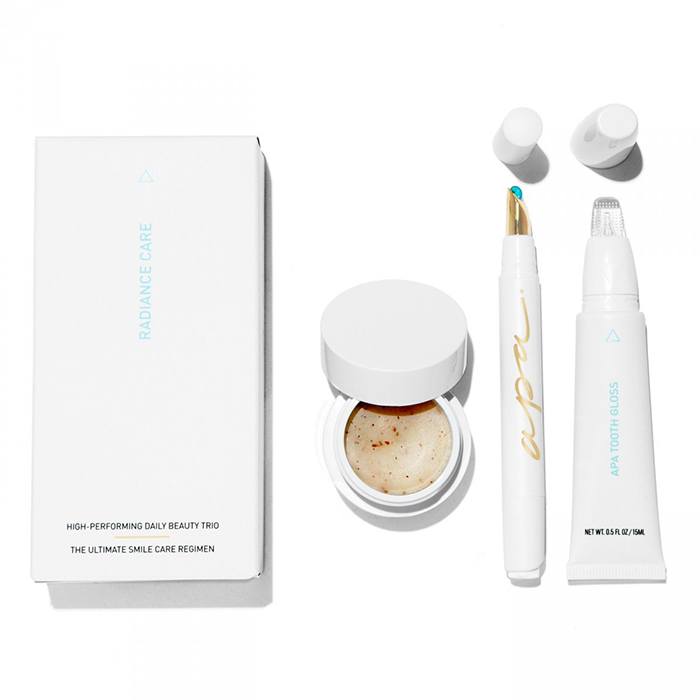 We also carry the Apa Beauty Radiance Care Kit, which complements the Apa White Duo Kit and is a complete package to take your smile to the next level.
Apa Beauty Radiance Care is a three-step process that helps make a brighter smile. The ultimate smile care regimen: Apa Lip Loofah, Apa Tooth Gloss, and Apa Blue Lip Shine. A great smile isn't just about white teeth—exfoliating, moisturizing, and adding shine is paramount to bringing out your best smile.
Box Includes:
APA Lip Loofah: Gentle lip exfoliator and conditioner
APA Tooth Gloss: Antioxidant-infused nourishing gloss brightens teeth for a beautiful smile.
APA Blue Lip Shine: Lightens smile with minty blue crystals